Butcombe Brewing Co.
Our Brewery shop is open Wednesday to Friday 10am-5pm. The brewery is open for CLICK & COLLECT from Tuesday to Friday 10am-5pm. Please book online or email us at info@butcombe.com when you are planning to pick up so we can have your order ready.
______________________________________________________________________________
Established 1978.
Bristol born and made to stand out, Butcombe Brewing Co. began life at a time of cultural, social and political change, crafting beer before 'craft beer' was even a thing.

You see, at that time, no one was risking it all starting a brewery, making simple, premium, easy-drinking ale. To do so was an act of defiance. Or madness. But, 44 years and a lot of hard graft later, by staying true to our beliefs and Bristolian roots, it looks like owning a resolutely maverick brewing company isn't such a crazy idea after all. By going against the grain, to work intimately with it, we made our own statement with every pint. And what was true then is just as important today.

Our passion for great beer extends to our passion for great pubs. Located across the South of England, Butcombe Pubs & Inns are an independent, eclectic bunch with a focus on award-winning food and drink, and creating truly memorable experiences.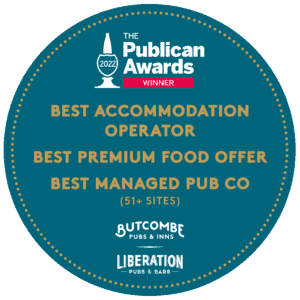 Brewery Tours
In 1978 we shut out the world and made beer. We're still doing the same today, except that every now and then we open up our doors and share our passion for pints with the world.
There's nothing we love more than hosting beer enthusiasts (or beer beginners) at our brewery. We've got a great story to tell, and our vision for the future is just as exciting.
Explore behind the scenes, see how we work our brewing magic, and taste some of our finest brews with the people who craft them.
We'd love you to join us.