Brunel's SS Great Britain: Bristol's Most Treasured Ship
SS Great Britain is one of Bristol's most famous attractions and was once the largest passenger ship in the world, measuring almost 100m in length. Now a museum ship, she attracts visitors from all over the world, with more than 150,000 people coming aboard each year.
Bristol's Most Famous Ship, Just 8 Miles From The Rising Sun
After spending your day exploring SS Great Britain and learning about its history, stop by The Rising Sun and enjoy a delicious meal, washed down with a pint of our award-winning Butcombe beer. Our comfortable en-suite rooms are the perfect place to rest and relax after a busy day exploring the sights of Bristol.
History Of SS Great Britain
Designed by the master-engineer Isambard Kingdom Brunel, SS Great Britain was his second notable ship after the SS Great Western. While the Great Western was a paddle steamer, the Great Britain was the first ship to be built of iron and incorporate a screw propeller.
She was launched in 1843 and, after several delays, finally made her way towards the River Thames for the final fitting out. Two years after being launched, SS Great Britain commenced her maiden voyage, travelling from Liverpool to New York City, becoming the first iron steamer to cross the Atlantic Ocean.
Her maiden voyage identified a multitude of issues which were addressed at significant cost. In 1846, she ran aground off the coast of Ireland, remaining there for 11 months before being brought back to Liverpool. After remaining there motionless for some time, SS Great Britain was sold and was used to carry emigrants to Australia.
After successfully carrying passengers to Australia for 30 years, SS Great Britain was converted into a cargo ship. In 1886, she was badly damaged in a storm and headed towards the shelter of the Falkland Islands, where she remained until 1970.
Recognised as an important part of the history of the United Kingdom, efforts were made to tow SS Great Britain 8,000 miles back to her rightful home in Bristol, where she was subject to an enormous restoration project to allow visitors to view her as she would have looked for her maiden voyage.
SS Great Britain Today
Located on Bristol's waterfront, SS Great Britain is now a museum ship, restored to her former glory and welcoming visitors aboard to admire her and learn about her history.
A working replica of the original engine can be viewed from the engine room, while the promenade deck and weather deck both appear as they would have during her Atlantic voyages.
The galley and bakery depict how the kitchen workers would have prepared meals for as many as 600 passengers per day, many of whom would have enjoyed their meals in the first class dining saloon.
The Great Western Dockyard & Dry Dock
The Great Western Dockyard is where SS Great Britain was built almost 200 years ago, and where she now takes pride of place, surrounded by the "glass sea".
Visiting the Great Western Dockyard is like stepping back in time, with cranes, masts and engines all on display as they would have been all those years ago.
Venture beneath the "glass sea" into the temperature-controlled dry dock and enjoy a 360 degree view of the ship and revolutionary screw propeller that was designed by Brunel. You will also learn about the strict conditions that are adhered to in order to preserve this delicate piece of history for as long as possible.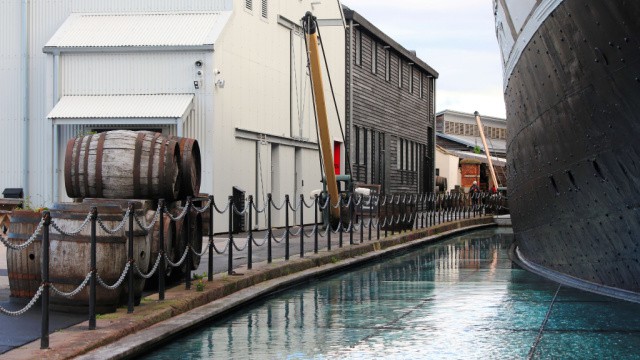 The Dockyard Museum
The Dockyard Museum offers visitors to learn all about SS Great Britain and the timeline of her life.
After starting life making trips between the United Kingdom and the United States of America, she eventually enjoyed many years of service transporting emigrant passengers to Australia.
It wasn't all plain sailing (pun intended) for SS Great Britain though, experiencing her fair share of design flaws, mechanical failures and accidents during her life, culminating in her triumphant return to Bristol in 1970!
As an added bonus, you can also find out which notable passengers travelled on SS Great Britain and which English sports team she took abroad for an international match!
Private Tours
Private tours are only available at certain times of the year, so please check with SS Great Britain in advance to avoid disappointment.
These private guided tours are designed to accommodate groups of up to 6 people and offer a deeper insight into SS Great Britain. With your own personal tour guide on hand to answer any questions that you may have, visitors can gain an in-depth understanding of her history, timeline and struggles.
At the time of writing, private tours cost £30.00 (for up to 6 people) and are subject to availability.
Food & Drink At SS Great Britain
Positioned alongside SS Great Britain is the Harbourside Kitchen – an ideal location for visitors to the famous ship and local passers-by.
Offering a delicious range of light meals, snacks and drinks, you can soak up the harbourside atmosphere before or after spending time learning about the great ship.
The Harbourside Kitchen is open Tuesday-Sunday from 9:30am-6:00pm, with a slightly earlier closing time on Mondays.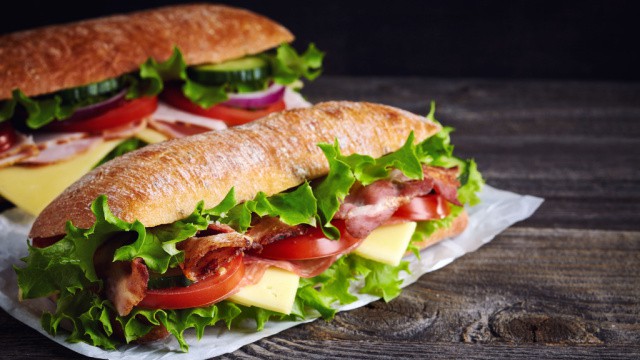 Isambard Kingdom Brunel
Although he was born in Portsmouth and died in Westminster, Isambard Kingdom Brunel had strong links with Bristol, with many referring to him as an "adopted Bristolian".
In addition to SS Great Britain, Brunel had previously designed SS Great Western (1838) and SS Great Eastern (1859) – all of which were the largest ships in the world at the time of their maiden voyages.
Elsewhere in Bristol, Brunel was responsible for the design of the remarkable Clifton Suspension Bridge, though his untimely death at the age of 53 meant that he never got to see the bridge completed. He was also the mastermind behind the Great Western Railway (which connects Bristol to London) and the city's iconic Temple Meads train station.
Directions To The Rising Sun From SS Great Britain
Located in historic Backwell on the outskirts of Bristol and a short drive from Weston-super-Mare, The Rising Sun is a beautiful pub and inn, with a warm and welcoming atmosphere.
To reach The Rising Sun from SS Great Britain, you must head north-west towards Gas Ferry Road and continue for 150 metres. Turn right onto Cumberland Road and then take the slip road on the right to A370/A38/A37. Merge onto Brunel Way/A3029 and continue for approximately half a mile, before keeping right to continue on Brunel Way/A370 for a further 1 mile.
At Gurney Roundabout, take the 2nd exit and stay on A370 for 5.5 miles, at which point you will find The Rising Sun on your left.